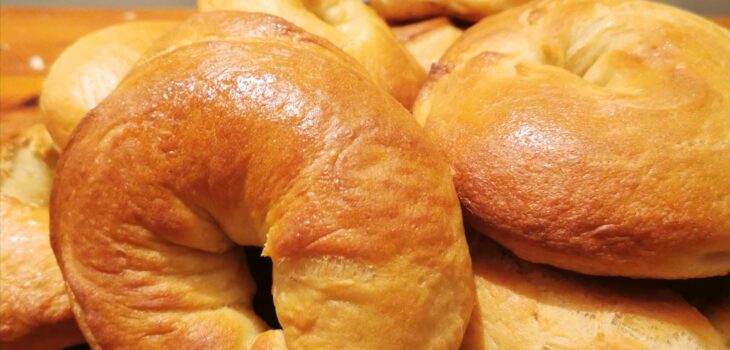 Montreal-style bagel is a distinctive variety of handmade and wood-fired baked . In contrast to the New York bagel which contains sourdough the Montreal bagel is smaller, thinner, sweeter and denser, with a larger hole, and is always baked in a wood fired oven . It contains malt, egg and no salt, and is boiled in honey-sweetened water before being baked.
Ingredients
1 1/4 cups warm water
1 3/4 tsp yeast
3 Tbsp sugar
3 Tbsp honey
1 Tbsp beaten egg
3 Tbsp veggie oil
1 tsp malt syrup
1 tsp kosher salt
4 1/2 – 5 1/2 cups of flour
Method
Proof yeast by placing it in warm water with a tsp spoon of sugar, it will be ready when it froths up.
Once yeast ready, place it in the mixing bowl with remaining sugar, malt ,honey, egg, salt and oil. Stir in flour 1 cup at a time , once the dough becomes less sticky either knead by hand or dough hook on a mixer.
Keep kneading until the dough is smooth and elastic, Transfer the dough to a lightly oiled bowl, cover it with plastic wrap and a kitchen towel, and let rise for 2 hours.
Punch the dough down, place it on a lightly floured work surface, and use a knife or dough scraper to divide the dough into 6 pieces (or more, for smaller bagels). Roll each piece of dough into a sausage shape about 6 inches long. Join the ends to form a circle. Repeat with the remaining dough, and let the bagels rest for 15 minutes.
Preheat oven to 475 degrees F (245 degrees C). Line a baking sheet with parchment paper. Arrange small plates with poppy seeds, sesame seeds, and onion flakes next to the baking sheet.
Bring 4 quarts water to a boil in a large pot. Add 1/4 cup of honey, Boil the bagels, three at a time, until they rise to the surface of the pot, about 1 minute per side. Remove the bagels with a slotted spoon and place them on the parchment-lined baking sheet.
Dip the tops of the wet bagels into the toppings and arrange them, seeds up, on the baking sheet. Sprinkle with coarse salt, if desired. Bake in the preheated oven until the bagels begin to brown, 15 to 20 minutes.
There are lots of different toppings and variations to bagels – have fun and just give it a go! My baking style is rather random and I have been known to change recipes as I go. Not the best practice in baking as precision can be important but it makes it fun!
Here are some good links for more reference