These are a snappy ginger cookie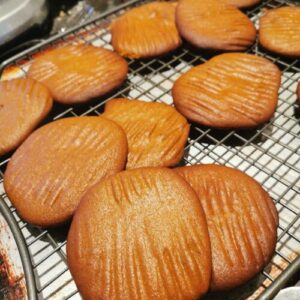 Mom's Cookies
These were my Mom's favourite cookies, she loved them super thin and almost burnt. They are traditionally made with Crosby Molasses which unfortunately is not available in New Zealand. Crosby molasses has a distinction taste which the closest I have come to recreate is a combo of treacle and real strap molasses. But generally I just use treacle for this recipe.
Ingredients
½

cup

butter, room temperature

½

cup

coconut oil

½

cup

sugar

1

cup

treacle

1

tsp

baking soda,

dissolved in a little warm water

1

tsp

ginger

1

tsp

cinnamon

½

tsp

allspice

3

cups

flour
Instructions
Cream butter, coconut oil and sugar together then add treacle and spices to combine

Dissolve baking soda in a small amount of water and add to mixture

Add flour and combine to smooth dough

The dough will be a little sticky so I use a small ice scoop to make balls and then chill for 20 mins to make more manageable. The cookie balls can be refrigerated for 5 days or frozen for 3 months at this stage.

Place balls well spread out on baking paper lined tray . Flatten to desired consistency- the thinner the crisper. My mom always pressed down with a fork to make it extra thin to get the snap.

Cook for 12 mins or until browned. Cool on wire rack
Notes
To make healthy, just eliminate the sugar from the recipe. Treacle is sweeter than Crosby's molasses and it isn't necessary.