Full of toasted cinnamon, pecan and white chocolate basically a cinnamon roll as a cookie.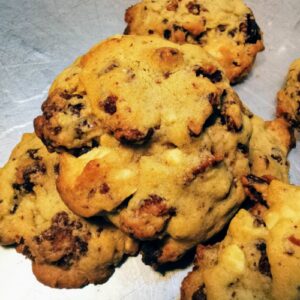 Cinnamon Pecan Cookie Recipe
A new flavour- cinnamon, pecan and white chocolate combine to make this buttery cookie which is an alternative to the classic chocolate chip cookie. Basically a yummy cinnamon roll in a cookie!
Ingredients
250

grams

softened butter

1

cup

brown sugar

2

eggs

2

tsp

vanilla

2

cups

flour

½

tsp

baking soda

2

cups

cinnamon toast crunch

250

grams

chopped white chocolate

,I always use Whitakers
Instructions
Cream butter and sugar until light and fluffy. Beat in 2 eggs and vanilla.

Stir in 2 cups flour and baking soda into butter mixture until combined. Then add in cinnamon toast crunch and white chocolate chunks. Leave big chunks

Drop ice cream scooperful onto cookie trays. Bake for 10-12 minutes. Transfer to wire rack to cool completely .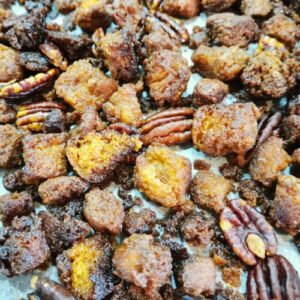 Cinnamon Toast Crunch
This is a crunchy mixture which embodies all the yummy flavours of a perfect piece of cinnamon toast. It can be eaten by itself or used in recipe to add an extra taste.
Ingredients
4

english muffins or white bread

, cut into 2-3 cm pieces

115

g

melted brown butter

½

cup

brown sugar

½

tsp

salt

2

tsp

cinnamon

1

cup

pecans
Instructions
Cut the english muffins into 2-3 cm pieces. Put in bowl then douse and toss in melted brown butter. Let it soak 1 minute

Add sugar and cinnamon to the bread and toss well. Stir in pecans then spread the mixture on parchment paper baking sheet and bake for 25- 30 minutes

Pull the pan out and stir/toss the mixture with a spatula at about 15 minutes. This helps caramelize the mixture, continue to do this periodically until mixture is dry and caramel light clusters

Cool the cinnamon toast crunch before storing or using the recipe. Store in airtight container at room temperature, it will keep fresh for 1 week in fridge or 1 month in freezer.
Notes
inspired by the Milk Bar by Christine Tosi