A great homemade present and not as hard as you think. Perfect for Valentine's Day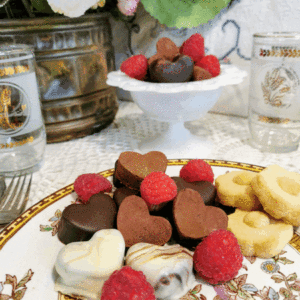 Chocolate Truffles
Homemade truffles are easy and fun to make! I use Whitaker's 50% chocolate as the base chocolate. Basically the truffle is chocolate ganache which has been allowed to cool. You can shape it, use chocolate molds or simply pour into a lined tin. There are lots of variation from cocoa powder to chocolate covered truffles.
Ingredients
Chocoalte Truffle
450

grams

Whitaker's 50% Chocolate

½

cup

heavy cream

1

tsp

vanilla

or other flavour such as almond,mint or raspberry

¼

cup

cocoa powder

for coating
Chocolate Covering
250

grams

Whitaker's 50% Chocolate

2

tsp

coconut oil
Instructions
The Simple method
Line an 8-inch square baking pan with parchment, with overhang on two sides. In a saucepan, bring heavy cream to a simmer.

Place chocolate in a heatproof bowl and pour hot cream mixture over top; let stand 5 minutes then stir until smooth. Pour mixture into baking pan and refrigerate until set, at least 2 hours.

When mixture is firm, cut into 1-inch squares and toss in cocoa powder. To store, box up truffles and refrigerate them at least 15 minutes and up to 2 weeks.
Variation- Heart shaped chocolate covered truffle
Pour the melted chocolate mixture into chocolate molds such as hearts. Refrigerate until set, at least 2 hours.

Once cooled completely than dip in chocolate covering to form this delicious truffle. Let excess chocolate drip off then place on parchment paper. Refrigerate again until set, at least 2 hours.
Chocolate Covering
Break chocolate into little pieces and put in heatproof bowl, add coconut oil.

Heat in microwave for 1 minute then stir, if needed heat again in 20 sec burst. stir between bursts until well combined and shiny.

Let cool slightly prior to use