This recipe has the base dough recipe of Boule which suits free form Artisan form loaves like; baguette, ciabatta and pain d'Epi.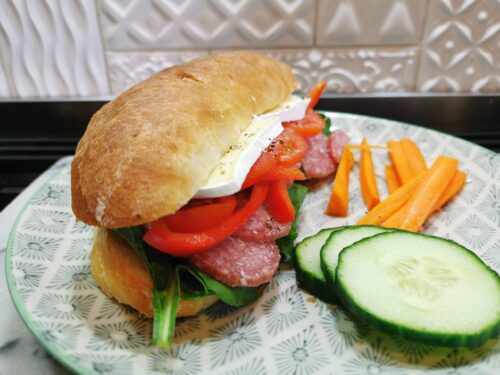 Basic Bread Dough
This recipe is another no knead recipe which can be stored in the fridge for 2 weeks prior to use. It can also be the start of a sour dough base. See below
Ingredients
3

cups

luke warm water

1

package

yeast

, I use Edmonds Instant Dry Yeast

1

tsp

sugar

1

Tbsp

salt

910

grams

high grade flour

about 6 ½ cups
Instructions
Find a container that will hold all the ingredients and can be stored in fridge. I use a large glass bowl.

Pour the warm water into your container and add sugar and yeast.

Add the flour, 1 cup at a time and stir with Danish bread whisk, spoon or heavy duty stand mixer to incorporate flour. Make sure to scrap the bottom to get all the flour. It's finished when everything is uniformly moist . It will be a wet sticky dough which conforms to the shape of the bowl.

Cover with plastic wrap – I oil it to prevent it from sticking to the dough. Set aside to rise for about 2 hours. It should double in size.

Once raised you form into the baguette shape . At this point you can store the dough in the fridge to be used on another day. It can be stored for 2 weeks.

It's easiest to form the bread on baking paper as it makes moving the bread onto the pizza stone for baking easier.

To form the baguette, dust the top of dough with flour and cut off an orange size piece of dough. Dust with flour and quickly shape into a ball then stretch and elongate the dough using a dusting of extra flour as needed. Roll it back and forth with your hands until cylinder shape is formed about 1½ inch diameter.

Set aside to rise again for 30 mins

Preheat oven with pizza stone in it to a high temperature of 210 C

Once the dough has rested , paint the loaf with water then using a sharp serrated knife make diagonal slashes on the top.

Slide the loaf directly on the pizza stone. Pour 1 cup of hot water into a broiler tray and place it in oven under the stone. It creates a steam oven. To get a crispy base, halfway thru cooking time, carefully peel over paper and put directly on stone.

Bake for 25 mins or until deeply browned and firm to the touch.
Notes
To make a "lazy" sour dough – when your dough container is finally empty or nearly so, don't wash it but immediately remix another batch in the same container. Just scraper down the container and it will get incorporated into a new dough.
This method can also be used with a more sizeable amount of dough , up to 2 cups. Just mix the old dough into the water mixture and let it stand until it gets soupy. Use an immersion blender to speed up the process. Once well blended, add the liquid to the dry ingredients just like the initial recipe.
Please note- this method can not be used in egg or dairy enriched dough.