How to make caramel sauce- this is a quick and easy recipe to make caramel sauce. Caramel sauce is tricky to get the right consistency it's all about timing and the amber colour of the sugar. Watch carefully too dark and it will taste burnt and be the consistency of hard toffee.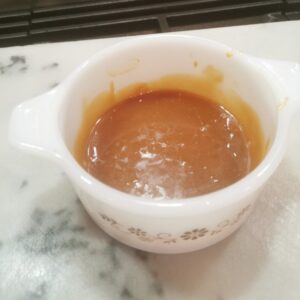 Caramel Sauce
This is the easiest recipe I have tried to make a caramel sauce – just be careful timing matters and it will determine the consistency of the sauce.
Ingredients
½

cup

heavy cream

2

Tbsp

butter

room temperature

2

tsp

vanilla

¾

tsp

salt

⅔

cup

white sugar

2

Tbsp

glucose syrup

2

Tbsp

water
Instructions
Place cream, butter, and salt in a small saucepan. Heat over medium heat until butter melted and salt dissolved. Remove from heat and add vanilla.

PLEASE BE CAREFUL with the next step – the sugar is extremely hot and will burn. Do not make this with children

Place sugar, water and corn syrup in medium saucepan place over high heat. Cook until light amber colour, don't stir but swirl occasionally. This will take 5-7 minutes. Watch carefully, it should be a light amber colour – too dark and it will taste burnt.

Once the correct amber colour, turn the heat off. Pour cream mixture into the hot sugar. Be careful, things will bubble over. Whisk over low heat until smooth. Pour into heat proof vessel and allow to cool prior to use.