Cheat's Chicken Stock uses the remains of your Sunday Roast chicken or sold bought whole cooked chicken to create this wholesome nutritious meal This is one of my winter staples- I use it as a base for lots of soups, such as my old fashioned chicken noodle soup.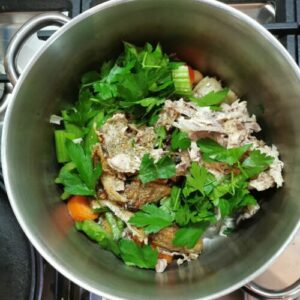 Homemade Chicken Stock Recipe
This is the way I make chicken stock and it starts at the end of a chicken roast. It can be a roast you have made or a store bought cooked chicken roast.
Ingredients
leftovers of a chicken roast or a store bought cooked chicken

2

chopped onion

3

garlic cloves

minced

3

carrots

chopped

3

celery stalks

chopped

1

bay leaf

1

Tbsp

dried sage

1

Tbsp

dried marjoram

1

Tbsp

Thyme

1

bunch

parsley

salt and pepper

8

cups

water
Instructions
To make the stock , take the leftovers of a chicken roast and separate any chicken meat from the bones. Set aside the cooked chicken meat. This is the meat i use for the chicken noodle soup.

Put the chicken bones, onion, carrots, celery, garlic and spices in a large Dutch oven. Pour in water to cover ingredients and bring to a boil.

Reduce heat to medium simmer and cover the Dutch oven. This will shimmer for 2-3 hours to bring out all the nutrients. Watch so it doesn't dry out and top up with water as needed.

When concentrated and a lovely dilute golden colour, pour the hot mixture thru a sieve into another heatproof bowl. Discard the bones/ veggies and you will be left with chicken stock.

Let it cool then store in fridge to be used for your next soup like Old Fashioned Chicken Noodle Soup.

It will last a couple days in the fridge, note it will separate when cooled. Just skim the top layer off to give a clearer broth. The stock can also be frozen in ice cube tray to be extend the shelf life.