Crispy Buttermilk Chicken Tenders – These buttermilk tenders are perfect in a wrap with salad and your favorite sauce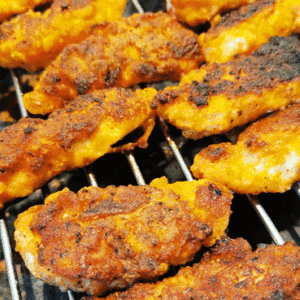 Buttermilk Chicken Tenders
A family favourite with delicious crisp chicken tender served in a wrap with your choice of sauces.
Ingredients
500

grams

chicken tenders

1

cup

buttermilk

1

cup

flour

2

tsp

smoked paprika

1

tsp

garlic powder

½

tsp

cayenne pepper

optional

1

tsp

fine onion flakes

salt and pepper to taste
Instructions
Cut chicken tenders into strips. Marinade in buttermilk for at least an hour but can be overnight. the longer you marinade the more tender the chicken

To make coating just place flour and spices in a wide bowl (dinner plate) and mix. With kitchen tongs, shake off excess buttermilk from a batch of the chicken tenders and coat with flour mixture.

Cook in medium hot frying pan with a good drizzle of oil , cook chicken in batches. Turn to ensure even cooking and add extra oil if needed. Cook until nicely golden colour and chicken is white. Colour time depends on thickness of chicken, just watch and you will know.

Once cooked, an important step is to place on a drying rack so they don't sweat,

To serve, set out the chicken pieces, a selection of salads (cut tomato, cut red onion, green salad, avocado, grated carrot, cut spring onions ..) and wraps.