A Kiwi Classic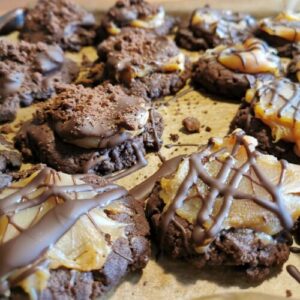 Afghan Cookies
A Kiwi Classic- a great cookie on it's own but an amazing base for these toffee cookies. Great as a present. Can be made with store bought caramel sauce or try making your own, a little fussy to make but the taste is worth it.
Ingredients
To make cookies
200

grams

butter

softened

½

cup

brown sugar

1

tsp

vanilla

1¼

cup

flour

¼

cup

cocoa

1½

cups

cornflakes crushed

or crushed wheetbix
to make icing
1½

cups

icing sugar

¼

cup

cocoa powder

1

Tbsp

butter softened

1-2

tbsp

boiling water
Instructions
To make cookies
Preheat oven to 180C. Line baking tray with baking paper

In a large bowl, cream butter, vanilla and sugar until light and fluffy. Sift in coca then flour and mix until combined. Finally add crushed cornflakes until well blended.

Place heaped teaspoonfuls onto tray, gently form balls then press to flatten slightly.

Bake for 15 minutes and cool on wire rack before icing.
To make icing
Mix icing sugar, cocoa and butter then add 1 Tbsp boiling water to make spreadable. If necessary add a little more hot water to get desired consistency. Ice biscuits and top with half a walnut
Notes
This make a great crumb which can be added to the top of a frosted cake to give an interesting crunch. 
to make the crumb – just spread the dough loosely on baking paper in a  tray and cook as above.