These are delicious and easy- give them a go!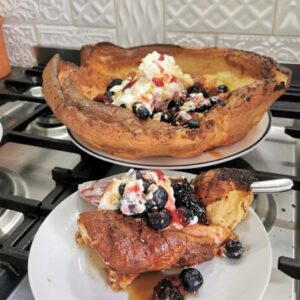 Dutch Baby Pancakes
These taste like a fusion of French toast and pancakes. They are a perfect base for lots of different topping from caramelized apples to berries and cream. Serve as a fancy breakfast or lovely dessert.
The key is cooking in a hot cast iron pan in a very hot oven.
Ingredients
80

grams

salted butter, cubed

4 large eggs

1 cup milk

1 cup flour

1 teaspoon vanilla

1/4 teaspoon cinnamon
Instructions
Preheat oven to 210 degrees

Place cubes of butter into the 10 1/2″ wide cast iron pan and put into the hot oven. Allow to bake until butter is melting and bubbly, but not browned. About 5 minutes.

 While the butter is melting whisk together the other ingredients in a medium sized bowl, until a smooth batter.

Carefully remove the pan from the oven and pour the batter over the melted butter. Immediately return the pan to the oven.

 Bake until golden brown, dramatically risen and puffy.

There will be butter on all sides and in the middle of the pancake, which will soak in once it is removed from the oven. About 20-25 minutes. I like my pancakes a little bit crispy on the edges so I go longer.

Add your favorite jam, syrup, honey, fruit or a simple dusting of powdered sugar. Serve immediately while the pancake is still souffled.

Our version had maple syrup, whipped cream, cherry jam and a mix of blackberries/blueberries
Check out the original recipe that inspired me to give these a go!