This is my version of the classic Christmas cake- soaked in brandy for weeks prior to Christmas and definitely not child friendly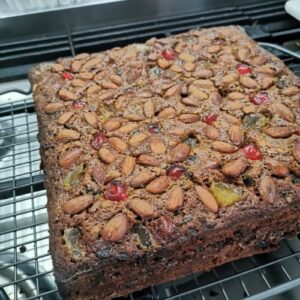 Christmas Cake
This is my version of the classic Christmas cake- soaked in brandy for weeks prior to Christmas and definitely not child friendly! I classically make it mid November and store it in the fridge adding extra brandy every couple days. Its part of the classic Christmas build up and to be honest I don't actually like fruitcake but my partner loves it!
Ingredients
1

kg

mixed fruit

½

cup

brandy

, other options sherry, port or rum. If you want a non alcoholic option- soak in Tea or orange juice.

200

grams

butter

2

cups

premium flour

1

cup

sugar

1

tsp

baking soda

½

tsp

salt

¼

cup

golden syrup

½

cup

milk

2

large eggs
Instructions
Night before making
Put the dried fruit in a large Snaplock bag, then pour brandy or alternative. Close the bag and lie flat so the most fruit comes in contact with the liquid. Leave it to stand for 24-48 hours. The fruit will plump up and look juicy.

You can speed up this process by placing the half sealed bag in the microwave. Give short bursts of 30 sec to 1 min. Turning the bag over between bursts. Repeat this process until fruit feels hot. At this stage lie the bag flat on a surface to completely cool, never make recipe with hot ingredients or you will cook it.
To make
Heat oven to 150 C and line a 20 cm square pan with baking paper

Cut the cubed cold butter into the flour, sugar, baking soda and salt with a food processor. Set aside

Place golden syrup tin in a bowl of hot water, this will make it easier to mix with the milk. Next measure the golden syrup and pour into milk then add eggs and whisk till combined.

Next place the fruit mix in a large bowl and add flour mix and milk mix. Then mix with wooden spoon or by hand to combine and pour into prepared tin.

I never ice my cakes but decorate with crystalized ginger, candied cherries and almonds. My favourite pattern has the cherries surrounded by almonds to look like flowers- but experiment and have fun.

Bake in oven for 2 – 2½ hours, until a skewer comes out clean. This cake is best to overcook then not as it can be stored for weeks and it can sink in the middle if not quite cooked.

Cool the cooked cake in its tin then gently turn it over.

Once completely cooled, I wrap it in cheesecloth or a nice clean teacloth then wrap tin foil, I store it in the fridge and every couple days pour a couple tablespoons of brandy over the top to soak in and by the time Christmas rolls around it is truly soaked and super moist.
Glaze
I don't typically do this because I continue to baste the cake with alcohol but just prior to serving it could be glazed, To make the glaze combine ¼ cup Apricot jam with 1 Tbsp lemon juice. Heat until runny then brush on cake,