The key is to make the filling to your taste!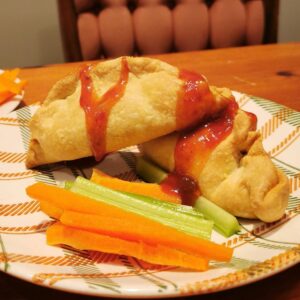 Beef empanadas
This is adapted from the original Mad Hungry recipe. The key is to make the filling to your taste!
Lucinda Scala is an amazing cook with lots of great recipes, well worth a look. See video to see her make the empanadas
Ingredients
1

Tbsp

olive oil

1

small onion

chopped

1

small green pepper

chopped

500

grams

ground beef

1

tsp

smoked paprika

2

tsp

cumin

¼

tsp

chili flakes

1

tsp

honey

1

tsp

coarse salt

¼

tsp

black pepper

2

large eggs separated

– I omit

1-2

tbsp

chipotle hot sauce

1

recipe

cream cheese pastry
Instructions
To make filling
Saute onion and bell pepper in olive oil until translucent. On high heat, add ground beef and cook until brown. Stirring constantly for roughly 5 to 7 minutes. Then add cumin, smoked paprika and chili flakes and cook for another 1 min.

Stir in honey, salt, pepper and hot sauce. Cook until meat is golden brown and all the liquid has evaporated. Cool the mixture completely in the fridge. Stir in egg whites

Preheat oven to 180 C. Prepare baking sheet with baking paper
To form the empanadas
Start by rolling out ½ cream cheese pastry on a flour surface. Using an overturned small bowl, about 10 cm, cut out circles. Roughly 4-5 circles , then gather up scraps together and reroll/cut circles again.

Take one of the circles, place ¼ cup filling on one side of the dough circle. Wet the edge of the dough with water. Fold the dough over to form a half circle. Pinch edges of the dough together then crimp the edges with a fork. Repeat the process until all the filling is used.

The empanadas can be frozen at this point if desired to cooked in the future.

Place the empanadas on the prepared baking sheet and chill for a few minutes. Prick each pie on top twice with a fork. When ready to bake, beat the egg yolks with 1 tablespoon water. Brush the egg wash over each empanada. Bake for 20 to 25 minutes, until golden brown. Let rest for 5 minutes before serving. The empanadas can be cooled and frozen to reheat in a microwave.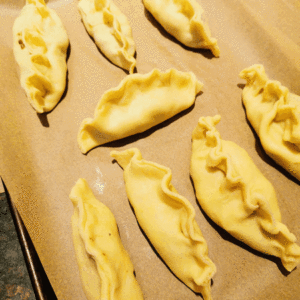 Cream Cheese Pastry
This is a great pastry- easy to make and more forgiving than most
Ingredients
120

grams

butter

100

grams

cream cheese

¼

cup

heavy cream

1½

cup

flour
Instructions
In a food processor, blend cream cheese, butter and flour until a coarse sand like look.

Slowly pour the cream into the mixture while being blend. Continue blending until the dough holds together as a ball

Divide into 2 balls on a floured surface then flatten into a disc and wrap in plastic film. Refrigerate for at least 30 minutes before using.

It can be chilled overnight in fridge , just take it out 25-35 mins prior to use
Notes
Generally pastry is best made quickly with cold ingredients. Chilling the pastry helps to make the flakiness – more pastry recipes to come like butter pastry and puff pastry.
Cream cheese pastry  is a nice forgiving recipe and a good one for pastry beginners – so give it a go!