Often you come across amazing vintage chandeliers, some can easily be tested and rewired to live another life as a chandelier. Some unfortunately just can not be saved but can be upcycled into interesting and useful objects like this outdoor Candelabra.
It's easy to convert to a candelabra if you find the right chandelier, again it's always worth looking to see if it can be properly savaged as a chandelier. If not, there are a few key features that the chandelier needs to have : an upward light bayonet, it should have a size suitable to hold a candle and an upright glass shade to protect the candle from the wind.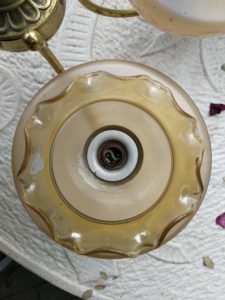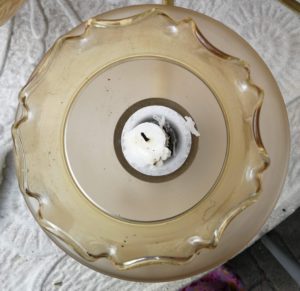 Now all you have to do is put the candles in the light fitting, make sure the candle is secure. It helps to place a few drops of wax in the socket to hasten the candle. It's important the candle doesn't touch the glass as it will crack it. Next step is to put it up with some nice chain and viola a beautiful candelabra-Easy!