McDonald's released a set of four Muppet Babies Happy Meal toys (plus two "Under Three" toys) in 1987 in New Zealand.
The main set had the Babies riding wheeled vehicles. The figures and vehicles were removable.
Baby Kermit on a skateboard
Baby Piggy in a pink car
Baby Gonzo riding a green Big Wheel tricycle
Baby Fozzie on a yellow hobbyhorse on wheels
In Canada, Baby Animal in a red wagon was added to the set. Some of other figures were sculpted differently: for example, the American Baby Gonzo wore shoes whereas the Canadian Baby Gonzo was barefooted.
The "Under Three" toys were one-piece PVC toys. McDonald's often makes special toys for young children when the main toys include pieces that could be swallowed.
Under Three Toy: Baby Kermit on roller skates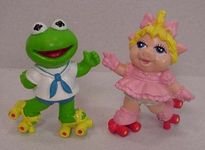 Under Three Toy: Baby Piggy on roller skates
We were lucky and found some of these cute Muppets! Check them out